PSDA Private Label Skin Care Products You Must Try
Plastic Surgery and Dermatology Associates is proud to offer high-quality skin care products for patients in Fairfax, Washington DC, Arlington, Annandale, VA, and the surrounding communities.
PSDA Skin Care Products
Achieving youthful, glowing skin for the long-term isn't just the result of in-office procedures. It comes as a result of dedication and commitment to your skin care routine, enhanced by pharmaceutical-grade skin care products. Our private label products are made with formulas that provide proven results, so you can rest assured that your skin is in good hands. We offer the following products:
PSDA Gly/Sal® 2-2 Pads
A powerful yet hydrating combination of glycolic acid and salicylic acid, our Gly/Sal® pads unclog pores and remove dead skin cells while smoothing and toning the skin.
PSDA Benzoyl Peroxide 10% Wash
Designed to cleanse and treat acne-prone skin, this soap-free wash can be used day and night, without risk of drying or irritation. It is effective for children, teens, and adults, so you can combat acne whenever it strikes.
PSDA Ultra Hydrating Serum
Hyaluronic acid combines with sodium PCA and glycerin to create a deeply penetrating formula that delivers all-day moisture. This serum brightens, firms and rejuvenates the skin with every drop.
PSDA Green Tea Foaming Cleanser
Healthier, glowing skin is within reach with the Green Tea Foaming Cleanser. This cleanser minimizes the damage caused by free radicals, soothing the skin and creating a healthier complexion.
PSDA Glycolic Urea 15-15 Cream
A formula that exfoliates and replenishes the skin, the Glyco-Urea 15-15 Cream is effective in improving the appearance of Keratosis Pilaris, psoriasis, dermatitis, and calluses.
PSDA Tinted Physical Sunscreen
Broad spectrum UVA/UVB SPF 50+ protection that is excellent on sensitive and acne-prone skin. This formula delivers 13.75% of weightless micronized zinc oxide with a gently tinted finish.
PSDA Ultra Lite Facial Cream
Glycerin and squalane combine to provide smooth, healthy skin protected from free radical damage.
PSDA Enriched Night Cream
Wake up looking younger and more vibrant with this skin-nourishing formula. Designed to target wrinkles, even skin tone and hydrate the skin, our night cream will help repair your skin for the long-term.
PSDA Advanced Retinol Serum 3X
A time-released serum that smooths, firms and evens skin tone, this formula reduces redness while diminishing unwanted signs of aging.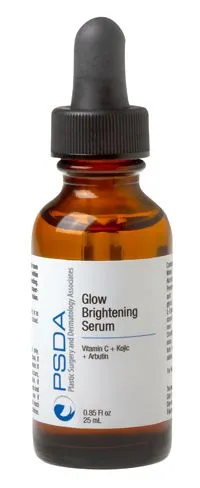 PSDA Glow Brightening Serum
A highly effective trio of kojic acid, vitamin C and arbutin come together to even skin tone and brighten the skin. Best when used daily, this formula can improve the appearance of melasma, hyperpigmentation and sun damage.
PSDA Luxe+Creme
A multi-lamellar brightening balm, this creme hydrates the skin with the help of hyaluronic acid and four peptides that support hydration.
If you have questions about which PSDA skin care products are right for you, we recommend scheduling a consultation. Our office is convenient for residents of Fairfax, Washington DC, Arlington, Annandale, and the surrounding DMV communities. Contact us today to learn more.